Biography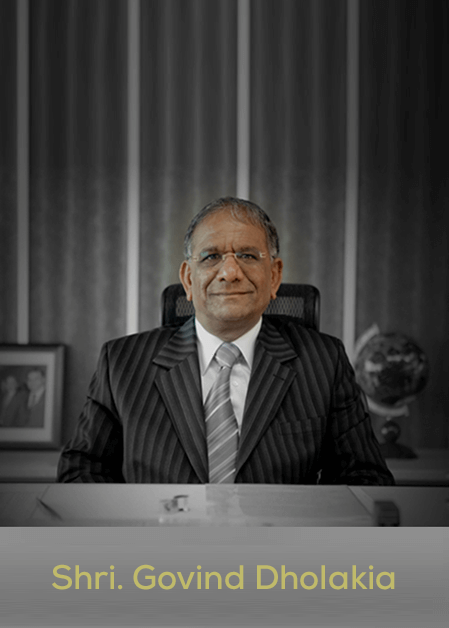 "I am Nothing but, I can do Anything."
-
Govind Dholakia
Shri Govind Dholakia, fondly addressed as Kaka by all, is an epitome of generosity and kindness.
Shri Govind Dholakia's life is not merely narration of events and experiences, it is his constantly reconstituted sense of identity. Born in a remote village of Dudhala located in Gujarat, He has a humble and rooted beginning. His journey commenced in 1964 as he set out towards Surat, Gujarat, not only to support his family, but also with a dream in his eyes to outperform, and since then his legacy has conveyed it all.
With Trust in his Friendship, Belief in God, and Faith in his own abilities, in 1970 he founded Shree Ram Krishna Exports (SRK), now a leading diamond crafting company. Diamond is God for him; and such guiding principles and philosophy have become the core foundation to what SRK is today.
"Knowledge is the way to progress" – this inspirational thought said by him reflects his inclination towards always acquiring knowledge no matter what your age is. He loves to share his wisdom and empower the upcoming generations. He is invited by many reputed organizations throughout the country to share insights from his life experiences that can drive value to the future of India.
Values &
Philosophy
Govind Dholakia's zeal to accomplish his vision is as inspiring as his optimism. In his journey from a modest beginning to the zeniths of success, he has adopted a positive approach towards every difficult situation. He believes that it is his positive thinking that has helped him come so far in his life. Though he has countless triumphs to his name, he has never failed to acknowledge the role of people who he met on his way up. He is grateful to his Godfathers- Shantibhai Mehta and Navinbhai Mehta of D. Navin group of companies, for their unwavering support in his endeavors. He says, "Whoever I met became part of my family. They supported me enormously. " He has always drawn strength from his immeasurable spirituality. He is a fervent devotee of Shri Dongreji Maharaj right from the age of 13, and his religiousness also earned him the title of 'Govind Bhagat' in his early days. He is inspired by Shree Dongreji Maharaj and his values. Shree Dongreji Maharaj's stories have played a crucial role in shaping not only Govind Dholakia's personal life but also his business. He always follows the same values in his life.
Dream into Reality
(SRK)
"The strength of the team is each individual member. The strength of each member is the team"
On 12th April 2011, the auspicious day of Ram Navami, it was time for getting Govind Dholakia's dream see light. A mega state of the art diamond crafting facility in the heart of diamond city Surat erupted. The facility sprawling over 2,50,000 sq.ft and is entitled as "SRK Empire" and was inaugurated by the Guest of Honor, Ms. Varda Shine, then CEO of Diamond Trading Company(DTC), along with colleagues from De Beers Group and the Diamond Trading Company(DTC). SRK Empire was Govind Dholakia's inevitable dream that satisfies the desire and dreams of thousands people along with his. This facility ranks among the most modern and efficient diamond crafting units in the world and strengthens SRK's ability to produce the finest diamond for its growing customer base. To increase the production capacity, Govind Dholakia also inaugurated a new facility named "SRK House" in Surat, Gujarat in 2017.
SRK has witnessed the transformation of the impoverished and regressive India into the prosperous and powerful India. It is committed to conduct business by upholding high ethical standards ensuring Integrity, Transparency and Reliability with the industry laws. Positivity & Transparency in transaction are the pillars of SRK's journey.
Nothing to Everything
Govind Dholakia was born in a remote village of Dudhala located in Gujarat. Born into a poor agricultural family of 7 brothers and sisters, Govind Dholakia grew up just like any other child with no special treatments or privileges or better education. Govind Dholakia had a 'simple', at the same time 'hard' childhood. 'Simple' because Dholakia family lived a simple life with limited resources to feed several mouths; 'Hard' because life wasn't as easy as it is today.
From his
Thoughts
My achievements aren't the trophies and titles that sit on my office shelf; they are everything that has made me happy.
My list of achievements is what I call the "TOP TEN":
I have never competed with anyone.
I have never been nervous.
I have made no enemies in my entire life, Only loving friends.
People respect me for the person that I am and not for what I have.
My son is my reflection'
I have never envied anybody.
I have always lived in the present.
I have never forced my children to do anything.
My wife is my most valuable asset
The 'Jewel of Surat' award is close to my heart because it has been given only 2 people till now and I am one of them.
This is how Govind Dholakia's day looks like-
His
Lifestyle
He tries to balance personal & professional life efficiently. His time management & a balanced schedule for everything in life have organized him very well.
The 'Me' Time
7:00 AM to 10:00 AM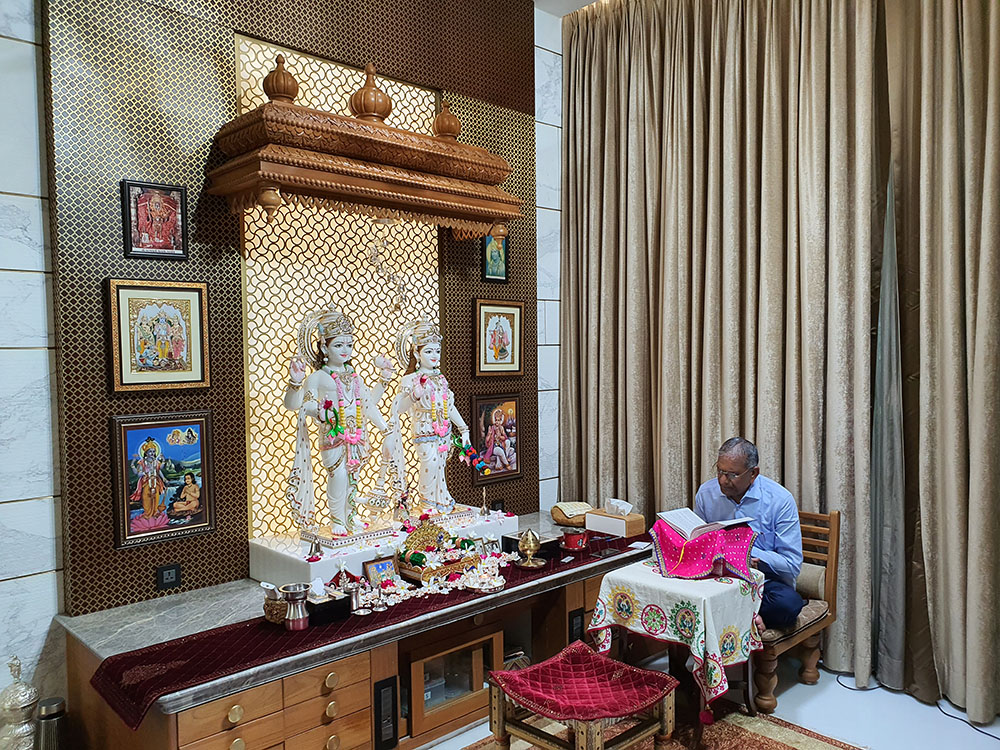 Personal time
It's the time when Govind Dholakia prays, exercises, plays sports, or goes for swimming in order to remain healthy. This helps him remain active and focused in his work throughout the day.
Charity is worship
10:00 AM to 12:00 PM
Time for giving back to the society
Govind Dholakia dedicates this period of time for those who need him by being with them at his social service center named "Relief center". A little contribution makes him happy and satisfied.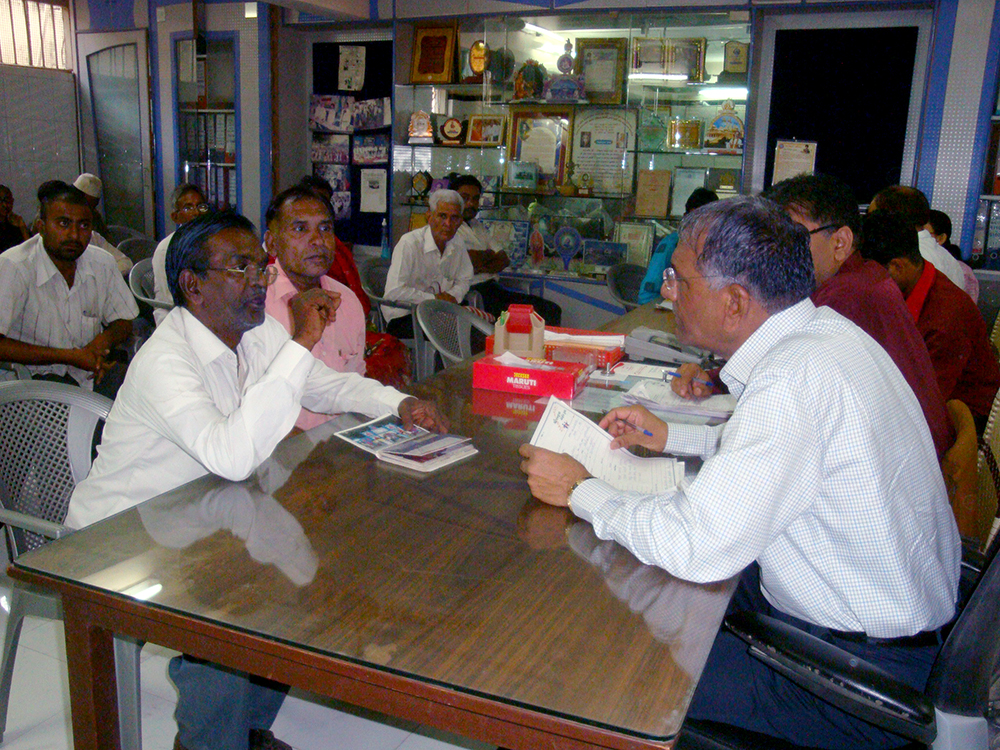 Work is worship
12:00 PM to 7:00 PM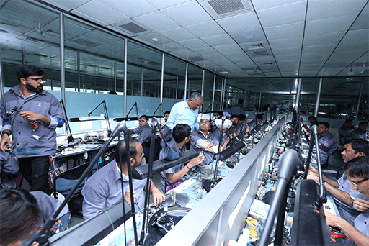 Making this the first
This time is dedicated for his SRK family members. Together the team believes "The strength of any team is its each individual member. The strength of each member is the team".
"My family is my strength"
7:00 PM to 11:00 PM
Family time
This time is when he is with his family and enjoys every bit of life with them.